Our Philosophy
At Integrated Financial Strategies, several guiding principals impact every recommendation we make and every action we take on behalf of you, our client.
We believe:
Attentive listening is just as important as sound advice.
While internet technology has many benefits, the opportunity to speak directly to a human being is essential for proper client service.
Our website and the tools therein are merely a supplemental resource, and are not meant to place any research or paperwork burdens on our clients.
Information is cheap, but properly applied wisdom is priceless.
Each new client's financial situation can be streamlined, and financial decision making need not be stressful; in fact the process is often satisfying, and sometimes exciting.
A client with a high degree of financial security has the freedom to engage in life giving and fulfilling activities.
The learning gained by working with many clients helps us address the specifics of each client.
Consistently wise decision making bears fruit in the long run.
Where we place our attention is paramount; frequently revisiting stated goals sharply increases the chances of achieving these goals.
"Financial security enables clients to engage in life giving and fulfilling activities."
- IFS Philosophy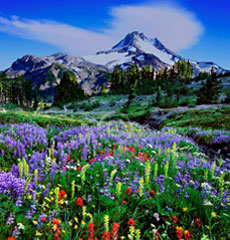 Mt. Jefferson Wilderness Area, Central Oregon